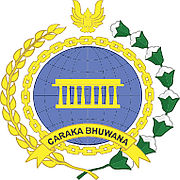 JAKARTA, Jan 30, 2023 – (ACN Newswire via SEAPRWire.com) – The Kick Off of Indonesia's Chairmanship of ASEAN in 2023 was held at the Hotel Indonesia Roundabout on Sunday (29/01) morning. The event was marked by a rebana biang musical instrument struck by President Joko Widodo at the Hotel Indonesia Roundabout, witnessed by thousands of people. President Joko Widodo expressed optimism that ASEAN will remain relevant, create a peaceful and stable Indo Pacific, and become a centre of economic growth.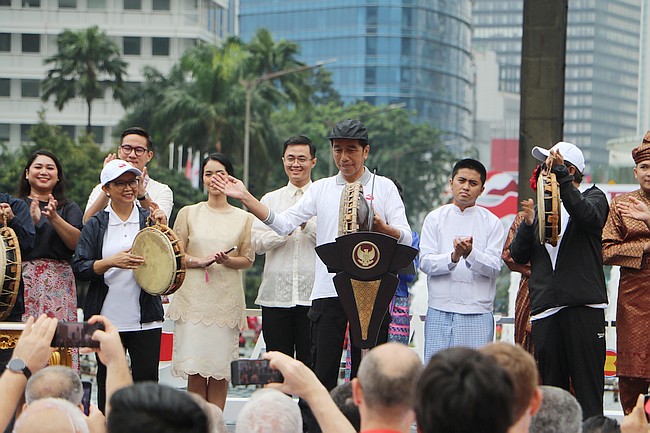 President Joko Widodo (middle) is hitting tambourine as a sign to kick off Indonesia's 2023 ASEAN Chairmanship at Hotel Indonesia Roundabout in Jakarta, Sunday (January 29, 2023). Under his leadership, the President is optimistic that ASEAN will keep growing and being regionally and globally contributive.
The Kick Off event was a collaboration between the Jakarta Provincial Government and the Ministry of Foreign Affairs. Coinciding with the Motor Vehicle Free Day (HBKB), the atmosphere appeared different and livelier than usual with the Nusantara Parade. The parade line-up was colourful and lively, consisting of marching bands, carnival outfits, percussion music groups, and Jakarta art groups, such as Betawi dancers and ondel-ondel. After a leisurely bike ride accompanied by the Minister of Foreign Affairs, the Acting Governor of DKI Jakarta, and a number of Ministers, President Joko Widodo joined the parade line in front of Sarinah, walking together towards the HI Roundabout.
The parade involved more than 500 people from various representative groups, namely Mawar Budaya group, Jakarta Music House, DKI Jakarta Paskibra, students from a number of Jakarta high schools, Altajuru music group, Firefighters and SSY. Also participating in the parade were Ambassadors of friendly countries and representatives of international organisations. The joy of HBKB was further enhanced by the presence of an entertainment stage enlivened by a number of artists, including Rara Lida, Putra Lida and Maria Callista.
The handover of ASEAN Chairmanship from Cambodia to Indonesia took place at the 42nd ASEAN Summit in Phnom Penh last November 2022. Indonesia's ASEAN Chairmanship period began on 1 January 2023 and will last for a year until 31 December 2023. As one of the founding countries of ASEAN and the largest country in ASEAN, many parties rely on Indonesia to be able to make various breakthroughs and innovations in dealing with various world problems that are also faced by the region.
Through the theme of the ASEAN Chairmanship, namely: "ASEAN Matters: Epicentrum of Growth", Indonesia is determined to direct ASEAN cooperation in 2023 to continue and strengthen ASEAN's relevance in responding to regional and global challenges, and strengthen ASEAN's position as the epicentre of regional economic growth, for the prosperity of the people of ASEAN.
The kick-off was held ahead of the ASEAN Foreign Ministers' meeting on 3-4 February 2023, which will take place at the ASEAN Secretariat Building, Jakarta.
–Antara
Copyright 2023 ACN Newswire. All rights reserved. (via SEAPRWire)