HONG KONG, Sep 13, 2023 – (ACN Newswire via SEAPRWire.com) – The eighth edition of the Belt and Road Summit, jointly organised by the Hong Kong Special Administrative Region (HKSAR) Government and the Hong Kong Trade Development Council (HKTDC), began today and will run for two days at the Hong Kong Convention and Exhibition Centre (HKCEC). This year's Summit is especially significant as it marks the 10th anniversary of the Belt and Road Initiative. Operating under the theme of Prospering on a Decade of Collaboration, the Summit serves as a vital platform for fostering business and trade. It assembles more than 90 government officials and prominent business leaders from countries and regions along the Belt and Road, as well as other relevant countries and regions. With nearly 6,000 attendees registering from across the globe, the Summit encompasses a range of discussion sessions and activities, including the Opening Session, Policy Dialogue, Keynote Luncheon, Business Plenary, Thematic Breakout Sessions, and Project Investment Sessions.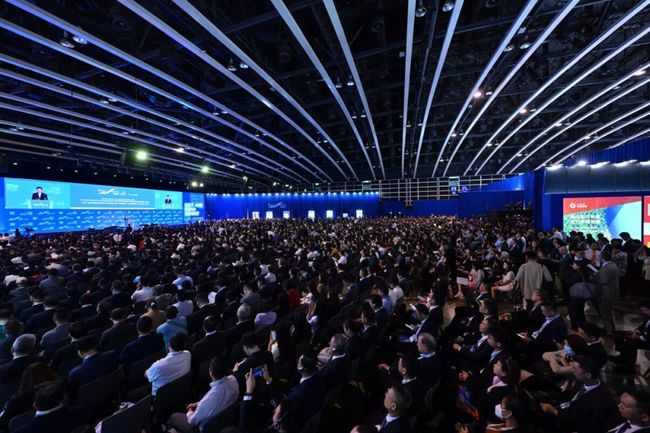 The eighth Belt and Road Summit, jointly organised by the HKSAR Government and the HKTDC, opened today.
The Summit aims to review the achievements and experiences of the Belt and Road Initiative and explore opportunities, focusing on promoting high-quality development in areas such as infrastructure, logistics, finance, technology and trade. The Summit also aims to promote arts and culture of the region and demonstrate Hong Kong's advantage as an important international trade platform for seizing Initiative opportunities.
The Summit invited Ding Xuexiang, Vice Premier of the State Council of the People's Republic of China, to deliver a video keynote speech at the opening Ceremony this morning. John Lee, Chief Executive of the HKSAR, delivered the opening address, and Dr Peter K N Lam, Chairman of the HKTDC, delivered a welcoming speech. Special addresses were also delivered by Zheng Yanxiong, Deputy Director, the Hong Kong and Macao Affairs Office of the State Council of the People's Republic of China and Director, the Liaison Office of the Central People's Government in the Hong Kong Special Administrative Region; Guo Tingting, Vice Minister, Ministry of Commerce of the People's Republic of China; Guo Ping, Vice Chairman of the State-owned Assets Supervision and Administration Commission of the State Council (SASAC) of the People's Republic of China; and Xiao Weiming, Deputy Secretary General, National Development and Reform Commission of the People's Republic of China. Keynote speeches were also given by Arman Shakkaliyev, Minister of Trade and Integration, Kazakhstan; and Rizal Affandi Lukman, Senior and Special Staff to the Coordinating Minister for Economic Affairs of Indonesia.
In his video speech, Ding Xuexiang, Vice Premier, State Council of the People's Republic of China, said: "With its unique advantages, Hong Kong proactively participates in Belt and Road development and continues to strengthen collaborations with partnering countries by utilising its outstanding professional services in the financial, legal and aviation industries. Hong Kong has effectively contributed to the facilitation of cultural exchange and people-to-people bonds. In the process of integrating into national development, Hong Kong has grown better and bigger. The report to the 20th National Congress of the Communist Party of China stated that Hong Kong should make use of its advantages to develop closer collaborations with different countries and regions. We support Hong Kong in maintaining its unique status and advantages, reinforcing its position as an international financial, transport and logistics, as well as trade centre. We will preserve a free and open business environment, uphold the Common Law system and extend our international network, to reinforce the city's role in the Belt and Road Initiative."
John Lee, Chief Executive of the HKSAR Government, said in his opening address: "Hong Kong is determined to embrace the vast promise of the Belt and Road. The Hong Kong SAR Government is redoubling efforts to serve as the Belt and Road's functional platform. Under the unique 'one country, two systems' principle, Hong Kong is bestowed with the strong support of our country and long-standing global connections. Hong Kong is an important conduit between Mainland China and the world. We are expanding our co-operation with Belt and Road partners in a wide range of areas. From trade and investment, innovation and technology, to infrastructure development and many more."
Dr Peter K N Lam, Chairman of the HKTDC, said in his welcome remarks: "Economies need to rebuild resilience in a post-pandemic era. And this can be done by engaging more with emerging markets, which provide impetus for new growth. It also calls for a greater focus on newer industries, such as innovation and technology as well as sustainability. Hong Kong is the ideal platform to facilitate all of the above. As an international finance and business hub and gateway between Mainland China and the rest of the world, Hong Kong has always been an effective platform to connect countries and regions along the Belt and Road and beyond."
Expanded policy dialogue to explore new opportunities
This year's Summit introduced a keynote luncheon session titled Resiliency and Development on Entering a New Era of the Belt and Road Initiative. The session featured welcome remarks by Paul Chan, Financial Secretary of the HKSAR Government, opening remarks by Chu Gang, Chief Operating Officer, China International Capital Corporation Limited, and a keynote speech by Kao Kim Hourn, Secretary-General of ASEAN. The session discussed development of the Belt and Road Initiative over the first decade, highlighting achievements, prospects, and market opportunities.
Kao Kim Hourn said: "ASEAN had turned 56 last month and had contributed a great deal to prosperity, stability and security in the region. As a region, it would be the world's fifth-largest economy and its GDP expanded 5.7% last year, to about US$3.6 trillion. ASEAN was projected to grow 4.9% this year, significantly ahead of the global average, which is expected to be just 3%. As a large exporter, trade relations were very important to ASEAN and all 10 members recently completed a free trade agreement (FTA) with Hong Kong."
The highly anticipated Policy Dialogue session has been expanded to two sessions. Christopher Hui, Secretary for Financial Services and the Treasury of the HKSAR, hosted the first session with invited guest speakers Fahd bin Abdulmohsan Al-Rasheed, Advisor in the General Secretariat of the Council of Ministers of Saudi Arabia; Abdulla Bin Touq Al Marri, Minister of Economy, UAE; and Rania A. Al-Mashat, Minister of International Cooperation, Arab Republic of Egypt. The session focused on Tapping into the Potential of the Middle East, aiming to explore strategies for businesses entering the Middle East market and strengthening economic, trade, and investment ties between the regions.
Algernon Yau, Secretary for Commerce and Economic Development of the HKSAR, moderated the second session with guest speakers Peter Szijjarto, Minister of Foreign Affairs and Trade, Hungary; Nguyen Chi Dzung, Minister of Planning and Investment, Vietnam; and Mohamad bin Haji Alamin, Deputy Minister of Foreign Affairs, Malaysia. The session focused on the theme Belt and Road Initiative as a Catalyst for Regional Cooperation and Development and saw ministerial-level officials from various ASEAN and European countries engaging in discussions on collaboration among different economic entities.
The Business Plenary session on the first afternoon, chaired by Antony Leung, Chairman of the Nan Fung Group and Group Chairman and Co-founder of New Frontier Group, focused on the theme Fostering Business Collaboration along the Belt and Road through Hong Kong. Guest speakers for this session included Jeffrey Cheah, Founder and Chairman of Sunway Group; Jean-Pascal Tricoire, Chairman of Schneider Electric; and Wang Haihuai, Director and General Manager of China Communications Construction Company Ltd. The speakers analyse how Hong Kong can leverage its past experiences to play an important role in the Belt and Road Initiative and create more opportunities for global businesses.
To celebrate the 10th anniversary of the Belt and Road Initiative, a Cocktail Reception was held on the first night of the Summit. The reception included welcoming remarks, opening remarks and special remarks given by Dr Peter K N Lam, Chairman of the HKTDC; Sun Yu, Vice Chairman and Chief Executive, Bank of China (Hong Kong) Limited; and Paul Lam, Secretary for Justice of the HKSAR Government.
Four thematic sessions to discuss hot topics
This year, for the first time, the Ministry of Commerce hosts the Mainland-Hong Kong Services Industry Symposium on the first day of the Summit. The symposium aims to analyse how the service industry can drive economic growth in the mainland. Additionally, on the first day of the Summit, the Department of Justice, China International Contractors Association, and the Insurance Authority partner with the HKTDC to hold Thematic Breakout Sessions on various topics. These include International Legal Cooperation, Opportunities in Hong Kong Infrastructure to Boost High-quality Belt and Road Development, and Hong Kong as an Insurance Service Hub in Asia. Tomorrow, the Summit will collaborate with the Development Bureau, Hong Kong Monetary Authority, Financial Services Development Council, Hong Kong Science and Technology Parks Corporation, and Cyberport to jointly organise multiple thematic breakout sessions. These sessions will comprehensively promote Hong Kong's role and contributions in the Belt and Road Initiative.
A total of 17 MoUs signed on day one
On the first day of the Summit, 17 Memoranda of Understanding (MoUs) were signed by companies from Hong Kong, Mainland China, New Zealand, Malaysia, Vietnam, Indonesia, Thailand and Kazakhstan. The second day will see four more MoU signings, further expanding the scope of cooperation among participating countries and regions.
Middle East Forum: expanding opportunities, building on delegation achievements
In February this year, the HKTDC organised a delegation to the Middle East. Building upon achievements of that delegation, this year's Summit introduced the Middle East Forum. One session within this segment, Business and Investment Outlook in the Middle East Market, is scheduled for tomorrow. It will be hosted by Ronnie C. Chan, Chairman of Hang Lung Properties Limited, and will feature distinguished guests such as Nicolas Aguzin, Chief Executive Officer of Hong Kong Exchanges and Clearing Limited; Maher Abound, Chief Executive Officer of Ghassan Abound Group; Ahmed Obaid Yousef Al Qaseer, Chief Executive Officer of Sharjah Investment Development Authority; Hossam Heiba, President of the General Authority for Investment & Free Zones; and Walid Majdalani, Managing Director Corporate Investment for Middle East and North Africa of Investcorp. The session aims to analyse trade and investment prospects of Middle Eastern markets and further strengthen the connection between Hong Kong and Middle Eastern countries.
In addition to the Middle East Forum, this year's summit introduces the Finance Chapter and Youth Chapter. The Finance Chapter will focus on exploring how Hong Kong can leverage its financial service advantages, while the Youth Chapter will aim to harness the power of young entrepreneurs to contribute to the nation's needs.
Approximately 150 students including recipients of the Belt and Road Scholarship, Youth Development Commission (YDC) Youth Ambassadors, and graduate students from various tertiary institutions will be invited to participate in the Summit. These participants will have the opportunity to engage in discussions and activities within the Youth Chapter. Furthermore, the YDC Youth Ambassadors will play a significant role in the Summit. They will introduce the multimedia display commemorating the 10th anniversary of the Belt and Road Initiative, showcasing the achievements and progress made over the past decade. The youth ambassadors will also provide simultaneous interpretation services for participants in the one-on-one project matchmaking sessions, facilitating communication and connections among participants from different countries and regions. The YDC Youth Ambassadors will also promote arts and culture of their respective homelands, fostering a deeper understanding and appreciation among the countries and regions along the Belt and Road.
Inaugural multimedia display highlights achievements of Hong Kong companies
The Summit will also feature a multimedia display marking a decade of the Initiative, which highlights participation by Hong Kong companies in Belt and Road projects. Additionally, the 6th Belt and Road Global Forum Annual Roundtable on 15 September will run in conjunction with the Belt and Road Week, using Hong Kong as a base to share perspectives on the Belt and Road collaborations, exchange the latest information and seize cooperation opportunities.
Extending, optimising deal making
The HKTDC will extend its online and physical deal-making service to seven days (13 to 20 September), expecting to arrange more than 800 one-to-one project-matching sessions covering over 280 investment projects this year. The deal-making service includes one-to-one business matching meetings and project investment sessions. Business matching meetings will connect participants based on investment preferences and business expertise to facilitate one-to-one discussions on collaboration opportunities. Project investment sessions will provide a platform for project owners from different countries to present projects, giving investors and service intermediaries a comprehensive understanding of investment opportunities in different sectors. Project investment sessions will focus on four main areas: (1) energy, natural resources and public utilities, (2) innovation and technology, (3) urban development, and (4) transport and logistics infrastructure. New this year will be project-pitching sessions on the Middle East and emerging markets.
This year's Summit brings together more than 100 exhibitors from the Global Investment Zone, Hong Kong Zone and RCEP Tech Zone. The Global Investment Zone will showcase large-scale investment projects and opportunities from different countries to attract international investors and partners; the Hong Kong Zone will demonstrate excellent services and business advantages the city's enterprises offer; while the RCEP Tech Zone will feature high-end innovative technologies, artificial intelligence, digital technologies and solutions offered by exhibitors from the region. These three exhibition zones will also present project collaboration opportunities from various markets in the Middle East and emerging economies.
China International Capital Corporation Ltd serves as the Strategic Partner of the eighth Belt and Road Summit; Bank of China (Hong Kong) Ltd as the Banking Partner; The Hongkong and Shanghai Banking Corporation Limited as the Global Connectivity Partner; Standard Chartered as Diamond Sponsor; Huatai International Financial Holdings Company Limited as Sapphire Sponsor and China Mobile International Limited, China Unicom Global Limited and China Telecom Global Limited as Platinum Sponsors.
The Eighth Belt and Road Summit
Date: 13 to 14 September 2023 (Wednesday to Thursday)
Venue: Hall 5B-E, Hong Kong Convention and Exhibition Centre, Wan Chai
Websites: Belt and Road Summit: https://www.beltandroadsummit.hk/conference/bnr/en
Programme: https://www.beltandroadsummit.hk/conference/bnr/en/programme
Speaker list: https://www.beltandroadsummit.hk/conference/bnr/en/speaker
Photos Download: https://bit.ly/3r54cVZ
Media enquires
Yuan Tung Financial Relations:
Anson Wong, Tel: +852 3428 3413, Email: awong@yuantung.com.hk
Louise Song, Tel: +852 3428 5691, Email: lsong@yuantung.com.hk
Agnes Yiu, Tel: +852 3428 5690, Email: ayiu@yuantung.com.hk
HKTDC's Communications & Public Affairs Department:
Jane Cheung, Tel: +852 2584 4137, Email: jane.mh.cheung@hktdc.org
Clayton Lauw, Tel: +852 2584 4472, Email: clayton.y.lauw@hktdc.org
About HKTDC
The Hong Kong Trade Development Council (HKTDC) is a statutory body established in 1966 to promote, assist and develop Hong Kong's trade. With 50 offices globally, including 13 in Mainland China, the HKTDC promotes Hong Kong as a two-way global investment and business hub. The HKTDC organises international exhibitions, conferences and business missions to create business opportunities for companies, particularly small and medium-sized enterprises (SMEs), in the mainland and international markets. The HKTDC also provides up-to-date market insights and product information via research reports and digital news channels. For more information, please visit: www.hktdc.com/aboutus. Follow us on Twitter @hktdc and LinkedIn
Copyright 2023 ACN Newswire. All rights reserved. (via SEAPRWire)